How to prepare your retail business for the big days before Christmas.
We've made preparing your retail business for Christmas easier! Below are key dates of major shopping events after Labour Weekend. Also, get practical tips on festive visual merchandising online and instore. And last but not least, plan for your employees' holidays and payroll.
---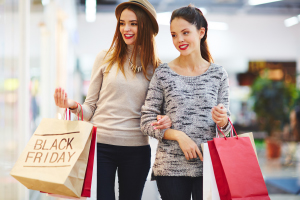 Customers are expected to be out shopping and online, looking for bargains and making purchases.
After Labour Weekend sales at the end of October, Singles Day occurs on 11 November. This is a Chinese shopping festival. Excitingly, it offers huge opportunity for Kiwi retailers to reach the vast Chinese market.
Black Friday is an American import that has become a fixture of the Kiwi shopping calendar in recent years. It's the day after Thanksgiving in the US. Black Friday is now bigger than Boxing Day for New Zealand retailers. Kiwis are increasingly using Black Friday sales to stock up, and kickstart their Christmas shopping. In New Zealand, Cyber Monday has increasingly been merged with Black Friday. This creates one of the biggest shopping festivals of the year.
Ecommerce sites and bricks-and-mortar stores will get busier through December. Christmas Eve (24 December) is still the biggest shopping day of the year. Shoppers rush to get groceries and gifts sorted ahead of Christmas Day, when most shops must close. Boxing Day sales start on 26 December and round out the busiest month of the year for retailers.
In essence, prepare your retail business for the Christmas rush well ahead of time. Order stock from September or earlier. Organise employee rostering to meet employee holiday needs. Also sorting staff numbers prepares you for increased customer demands. If you need to employ fixed-term or casual employees, allow time for advertising and interviews. Also, every employee must have a written contract, and you need to meet minimum employment standards.
The holiday season is a popular time for staff to take holidays. So if you haven't already, talk to your staff now regarding their plans for holidays during this time. This will give you advance warning of the need if any, to arrange for staff coverage during this busy retail period.
If you are likely to need casual employees over the summer, we recommend that you start recruiting now. You might want to think about using Student Job Search (which has no cost for employers) to help get the people you need for the busy period – but however you recruit it's important to make sure that casual employees are truly casual and that you have the right contracts in place. Retail NZ members can access employment contract templates FREE here.
Check out our advice for finding and recruiting the right people this Christmas season. If you have any questions, please check in with our free member Advice Service on 0800 472 472 or email [email protected].
The Christmas New Year public holidays in 2022/23 fall on:
| | |
| --- | --- |
| Christmas Day | Sunday 25 December or Tuesday 27 December (not both) |
| Boxing Day | Monday 26 December |
| New Years Day | Sunday 1 January or Tuesday 3 January (not both) |
| Day after New Years Day | Monday 2 January |
You need to pay public holiday entitlements to employees to cover these days.
What's your theme?
Inspire customers to do their gift shopping, by embracing the festive season. Spruce up your customers' shopping adventures with a great theme. There's no right or wrong way to do festive décor, as long as your merchandising is consistent. You might want to do a snowy winter aesthetic. Or celebrate summer holidays with beach, BBQs and camping vibes. With attention to your customers' desires, take the time to make your business a great omnichannel experience.
Store Layout
Plan your store layout, increasing your volume on the shop floor, and updating displays. These merchandising standards will vary significantly by location, product lines, and branding. Merchandising for the holiday season is not a "done once" job, but must be continuously updated.
If you have the flexibility to play around with store layout, the holidays are a good time to get innovative and try new things. Also, remember to place top sellers prominently. Show off your popular high-volume products. Make the most of your front windows and high traffic areas. This will attract more attention. Additionally, try creating easy gifting combinations for your customers. Encourage add-on purchasing by cross-merchandising. Be agile and proactive with remerchandising. If products prominent spots are not selling, replace them with products that are performing well.
Retail Safety
When you make any merchandising alterations for the holiday season, ensure that you're not making changes that would increase risk of retail crime. There tends to be an increase in retail crime during this time of year, so ensure your staff members are conscious of customers entering their store and serving them. No matter how you merchandise your store, never forget that customer service will be a huge factor in hitting sales targets during the busy holiday season!
Further advice on managing Retail Crime can be found here, including our Guide to Managing Retail Crime
The spring and summer season is also a popular time for councils to run events, including Christmas parades. It would pay to check out your council's calender of events for any upcoming activities to ensure that you make the most of the retail opportunities that come with these.
By law, your shop must be closed on Christmas Day unless:
your shop sells only food, drink, household items, personal items, automotive fuel, lubricants and accessories; and you have only enough items to meet the needs of people who live or are staying in the area; or
your principal business is selling souvenirs and/ or duty free goods; or prepared or cooked food ready to be eaten immediately in the form in which it is sold; or
your shop is located at a public passenger transport station or terminal and you sell any of the above and/ or books, magazines or newspapers; or
your shop is a pharmacy; or
your shop is located in a place where an exhibition or show primarily related to agriculture, art, industry, and science, or any of those matters, is being held; or
your shop is in Nelson, you only sell crafts, and Founders Park is open; or
you are providing a service only (hairdresser, beauty therapist)
If your shop is on the list of exemptions, you are not required to open – but you do have the choice to make your own decisions about opening hours.
---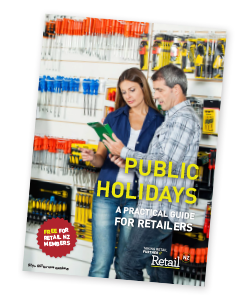 Make sure you are in the know about Public Holidays
It seems that every time a public holiday comes around, there's lot of scratching of heads, wondering what to pay staff and why.

We have formatted a guide specifically for this area, breaking the laws down and providing some working examples to help ease the process. It's FREE for Retail NZ members (or $29 plus GST for non-members).

Get your copy today by emailing [email protected] or request it from our member resource library.
---