How to prepare your retail business for the big days before Christmas.
We've made preparing your retail business for Christmas easier! Below are key dates of major shopping events after Labour Weekend. Also, get practical tips on festive visual merchandising online and instore. And last but not least, plan for your employees' holidays and payroll.
---
---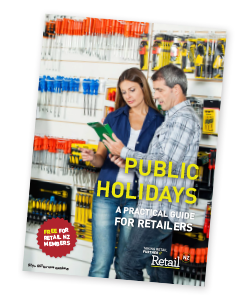 Make sure you are in the know about Public Holidays
It seems that every time a public holiday comes around, there's lot of scratching of heads, wondering what to pay staff and why.

We have formatted a guide specifically for this area, breaking the laws down and providing some working examples to help ease the process. It's FREE for Retail NZ members (or $29 plus GST for non-members).

Get your copy today by emailing [email protected] or request it from our member resource library.
---
Check out our Christmas Hub, for more helpful Christmas retail business tips. You'll get info on consumer trends, staffing, preventing retail crime, and much more!