Advertise your business with Stuff and reach more New Zealanders.
Cost effective advertising solutions for your business.
Whether you're looking to advertise your business locally or nationally, Stuff's advertising solutions can help you reach current and potential customers to increase your brand's exposure at cost-effective rates.
Put your business in front of a highly engaged audience and build a national or hyperlocal presence. Your business can connect with up to 3 million New Zealanders with Stuff's print and digital solutions, and Neighbourly's social platform.
---
Your exclusive member offer with Stuff: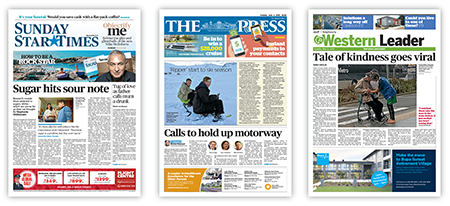 Newspapers
National package deal $5,000
– One 4×8 advertisement in each of Stuff's daily newspaper.*
Regional newspaper
– buy two 4×8 insertions, get two FREE* (Mon-Fri) in preferred paper (ROP).
Community newspapers
– buy two 4×8 insertions, get two FREE*.
Click here to contact us or email Ellen Yan on [email protected].
---
How many Kiwis can you reach with Stuff?
Talk to New Zealanders on stuff.co.nz or Neighbourly
*Offer Terms: Print offer; this offer is available for Monday-Friday run dates in your preferred paper for run of paper placements. Digital offer; minimum spend of $2,000 for any digital offer. Bookings are subject to availability. This offer is only valid for one campaign per advertiser. All print activity is run of paper and print and digital activity subject to availability. Rates are at net costs. Rates excludes production of the ad units.
Source: Nielsen CMI Q1 19 – Q4 19 March 20 **Nielsen Online Ratings April 2020 ***Neighbourly membership as of 1 June 2020 ****Nielsen CMI Q119- Q419 – Newspapers: National AP 15+

Updated 16th June 2020.