What's happening in the retail sector?
Find out with Retail Radar, our monthly research report. Retail Radar is useful for:
Getting a snapshot of the sentiment of New Zealand retail business owners.
Identifying future expectations of sales, inflation, and employment intentions.
---
Our Christmas Outlook Special Edition report is out now: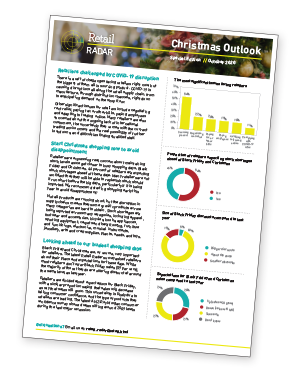 Retailers challenged by COVID-19 disruption.
There is a raft of challenges facing retailers right now, but the biggest of them all is sourcing product. COVID-19 is causing disruptions all along the retail supply chain, from manufacture, through distribution channels, right down to anticipating demand on the shop floor.
Other significant issues for retailers include negotiating rent relief, paying tax or other bills, paying employees and adapting to trading online. Many retailers are also concerned about the ongoing lack of international customers, the uncertainly that comes with the current trading environment and the real possibility of further lockdowns, and difficulties finding qualified staff.
---
Our October COVID-19 Special Edition report is out now:
Retail sales and confidence on the rebound again after lockdown.
The retail sector is broadly recovering from the second Level 3 lockdown in Auckland in August, and sales rebounded in September as restrictions were eased. Reported sales in September were up 19.6% compared to last year, although total sales from March to September are down 2.7%. However, sales activity is spread unevenly across the sector, and just over a third of retailers report that their sales are down.
45% of retailers reported an improvement on sales compared to the same time last year, and a further 19% recorded that sales were about the same. This is a significant improvement on last month, which saw sales plummet for the majority of retailers across the country.
Over the last month, retailers trading online fared better than those who do not trade online. 60% of respondents with an online presence reported that sales were up, compared to 35% for bricks and mortar only businesses.
---
---
We welcome all feedback on Retail Radar – if you have any comments or questions please email: [email protected].