What's happening in the retail sector?
Find out with Retail Radar, our quarterly research report. It's useful for:
Getting a snapshot of the sentiment of Kiwi retailers.
Identifying future expectations of sales, inflation, and employment intentions.
Retail Radar report on the third quarter of 2023: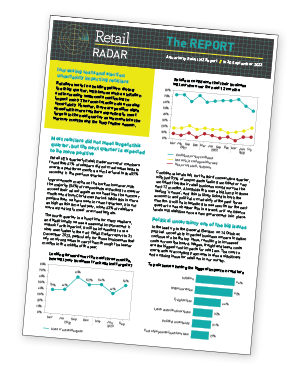 Increasing costs and election uncertainty impacting retailers
Retailers were in a holding pattern during the third quarter, with issues such as inflation and increasing wage costs continuing to impact many.
The recent election also created uncertainty. However, there are positive signs ahead with more retailers expecting to meet targets in the next quarter as we move into the warmer months and the busy festive season.
It will be interesting to see what eventuates in the next Retail Radar report to 31 December 2023, particularly for those businesses that rely on strong sales to carry them through the leaner months in the middle of the year.
We welcome all feedback on Retail Radar – if you have any comments or questions please email: [email protected].