What's happening in the retail sector?
Find out with Retail Radar, our monthly research report. It's useful for:
Getting a snapshot of the sentiment of Kiwi retailers.
Identifying future expectations of sales, inflation, and employment intentions.
---
Our Retail Radar report on the second quarter of 2021:
Retail NZ Sales Index numbers showed a positive month for retailers over the month of June, and sentiment was largely positive during the second quarter of 2021. This is good news in the face of significant uncertainly around COVID-19 which continues to rage beyond New Zealand's borders.
June saw an increase in spending of 9.8 per cent compared to June 2020, according to the latest Retail NZ Sales Index. This is a very positive result, especially given that this time last year we were emerging from the first and most restrictive lockdowns which lifted in mid-May and saw spending lift significantly over the following period.
---
Our Retail Radar report on the first quarter of 2021: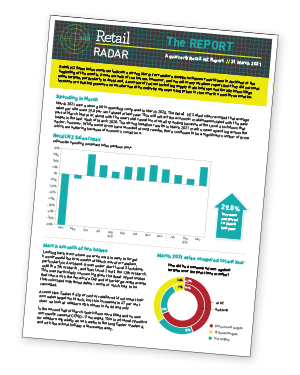 Retail NZ Sales Index numbers indicate a strong March for retailers despite lockdown restrictions in Auckland at the beginning of the month. It was a month of two halves, however, and overall many retailers report that they did not meet sales targets, particularly in Auckland. A number of factors including supply chain hold ups and the Minimum Wage increase are putting pressure on retailers and the majority are expecting prices to rise over the next three months.
March 2021 saw a strong lift in spending compared to March 2020. The Retail NZ Sales Index recorded that average sales per site were 29.8 per cent ahead of last year. This will reflect the economic malaise associated with the early part of March last year, along with the near total cessation of retail spending because of the Level 4 lockdown that began in the last week of March 2020. The strong headline results in March 2021 mask uneven spending across the sector, however. While some firms have recorded strong results, there continues to be a significant number of firms which are suffering because of economic conditions.
---
Our March 2021 COVID-19 Special Edition of the Retail Radar report: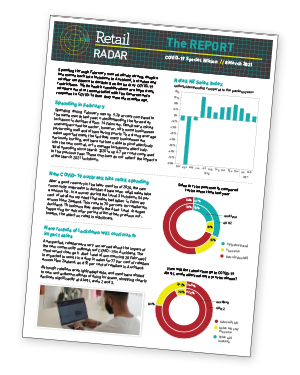 What were the impacts of the latest lockdowns?
Spending through February was relatively strong, despite two moves back into lockdown in Auckland, but sales and retailer confidence is declining on the back of COVID-19 restrictions. While health considerations are important, retailers are also less satisfied with the Government's response to COVID-19 than they were six months ago.
After a good recovery in the later months of 2020, the new community outbreaks in Auckland have seen retail sales take a serious hit. In a survey during the Level 3 lockdown 54 per cent of retailers reported that sales had fallen in February across New Zealand. This rose to 70 per cent for retailers in Auckland. This shows that despite the Alert Level changes happening for a shorter period of time than previous outbreaks, the effect on retail is significant.
---
---
We welcome all feedback on Retail Radar – if you have any comments or questions please email: [email protected].